Dalu Wang, a Taiwanese actor well-known as the school bully Taiyu Xu in Our Times, is now playing the genius high school hunk Zhishu Jiang in Love at First Kiss. The movie is directed by the Godmother of Idol Drama, Yushan Chen, and is scheduled to be released on the upcoming Valentine's Day to bring the audience back to the good old times when love was pure and simple. Mostly filmed in Asia University in Taichung and the Chinese Culture and Movie Center in Taipei, the movie depicts high school life and pure love, allowing the 27-year-old actor to dress in a high school uniform again.
Official Poster of Fall in Love at First Kiss
According to local news reports, Wang strived to improve his body shape before the filming, so as to fit the image of the role. "I did a lot of preparation for the classic role, Zhishu Jiang. Apart from all kinds of training classes in the early stage, I've also worked out and lost weight, trying to get back to the high-schooler state. Now I feel I have more energy and a better body shape!" said Wang. In addition to the appearance, Wang also worked on the brain. He not only read the entire comics before filming, trying to figure out the personality and the mindset of the protagonist, but also learned to solve the difficult math problem in the film. With great devotion, he has successfully transferred himself into the straight-A student, Zhishu Jiang.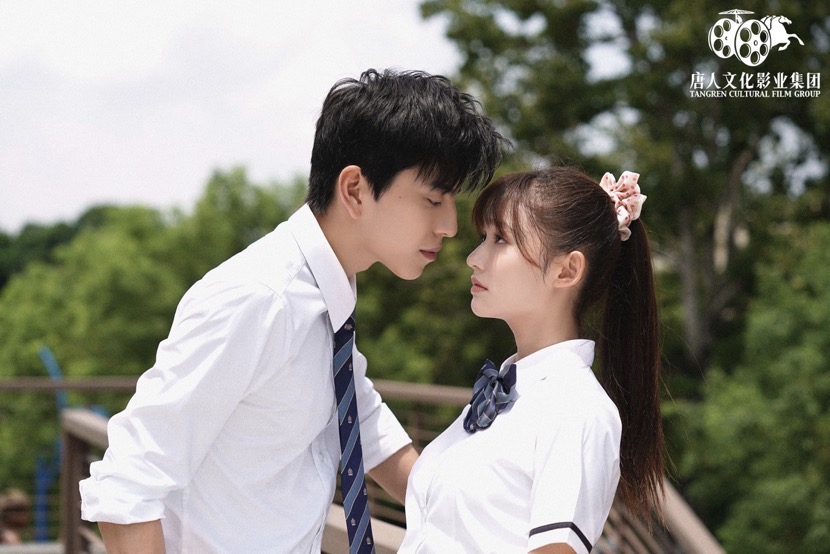 Zhishu Jiang (Dalu Wang) and Xiangqin Yuan (Yun Lin)
Apart from Dalu Wang, another actor Bairong Chen (co-starring as Ajin) is also worth noting. Known as the "Taiwanese Shun Oguri", he looks like a hot high schooler despite being in his mid-30s. According to Director Chen, Bairong was chosen to play Ajin because he is "Taiwanese enough"; in other words, he has a local attitude and focus, and he is not afraid of laughing at himself. The actor revealed that he is even more foolish and impulsive than Ajin in real life. As Ajin secretly guards the female protagonist Xiangqin Yuan with all his heart, Bairong also went to Japan and stayed there for two years after graduating from high school, just to meet a girl he had a crush on. Having similar personalities with Ajin, Bairong has brought the character to life in Fall in Love at First Kiss.  
With these school hunks saying romantic lines in the film, Fall in Love at First Kiss is going to give you butterflies on the upcoming Valentine's Day. The film will be released simultaneously in the US, Canada, the UK, Australia and New Zealand on 14th February by Tangren Cultural Film Group.